595-SN74LVC543APWT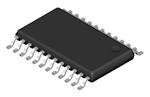 Manufacturer:
Texas Instruments
Minimum:
1
Multiples:
1
Pricing (USD) :
Cut Tape
1: $1.37
25: $1.10
100: $1.01
MouseReel™ Reel Service Fee $7.00 Price will be calculated in cart.
Full Reels of 250
To purchase full reel, order in multiples of 250:
250: $0.935
500: $0.853
1,000: $0.715
2,000: $0.704
Allow shipping of Partial Reels
Full Reel and Broken Reel Options
Reel and Cut Tape
Reel and MouseReel™
Reel Service Fee $7.00
MouseReel™ price is calculated in the cart. All MouseReel™ orders are non-returnable.

Description:
Bus Transceivers Octal Reg Trnscvr With 3-State Outputs